Offers you can't Ignore

Free Shipping on all orders
10% OFF on your first order
15% OFF on your next purchase
How to send my Wolfmoon Pieces for Repair?

Our team of experts will be delighted to assist you with your inquiries, kindly contact our customer care team by whatsapp on +918823882388 or email us on customercare@opalinajewellery.com
Avoid contact with moisture, perfume, nail polish removers or hairsprays. Store in a cloth pouch to prevent scratching, chipping and entanglement. Such products may harm the metal, cause discoloration or cause a loss of crystal brilliance. Swarovski crystal is a delicate material that must be handled with special care. Your jewellery should be stored in a dry place away from humidity, moisture and extreme temperatures. Don´t forget to remove your rings when washing up or showering, as soap particles may become lodged in stone settings and crevices. Soaps can also leave a film over metal and stones, creating a dull appearance. Gentle rubbing with a silver cleaning cloth will restore the original brilliance of the surface. Do not use liquid cleaners for carved silver jewellery as the liquid dries into the engraving. Make sure your jewellery is not in regular contact with hard surfaces, which will scratch or wear down the plating or enamelling. Never use detergent, soap, toothpaste etc to clean your gold-plated jewellery. When dressing, jewellery should always be put on last as make up, cosmetics and perfumes can cause damage to delicate items. If you wear your gold-plated silver jewellery for significant periods of time, the plating will eventually wear down. To restore its appearance, you can have it re-plated. Please take care when storing pieces with enamel / acrylic / print. Enamel / acrylic / print should not be in contact with other metal. Store the piece individually (not with other jewellery) in this case. Avoid contact that may scratch or chip the crystal. We do not use any allergy causing chemicals like nickel and chromium in our jewellery, hence it is absolutely safe on skin.
Product colour may slightly vary due to photographic lighting sources or your monitor/screen display settings.
Anti Tarnish

22K Gold Plated
Hypo Allergen

Handcrafted in India
Secure Checkout
Anti Tarnish

22K Gold Plated
Hypo Allergen

Handcrafted in India
Secure Checkout
Anti Tarnish

22K Gold Plated
Hypo Allergen

Handcrafted in India
Secure Checkout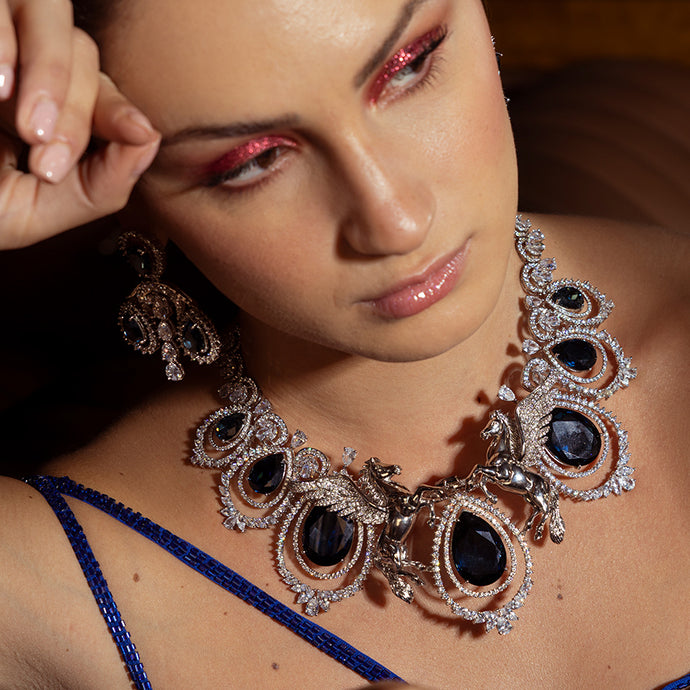 QUESTION
Talk to our expert to get your right fit
Pair text with an image to focus on your chosen product, collection, or blog post. Add details on availability, style, or even provide a review.
Ask a Specialist now
Shop by Category
Curated collections just for you
Recently viewed products
Describe your recently viewed products here
What payment methods can I use?

We offer 35 different payment methods including major providers like Mastercard, Visa, PayPal, American Express and Diners as well as many different local payment methods including Klarna, iDEAL, AliPay, Sofort, giropay, and many more.
Can I purchase items with another currency?

Yes, you may select a currency based on your personal preference. When you select your country in the country selector on the upper right of the website or are taken directly to your country's version of the website, you will see prices listed in the regional currency.
Can I make changes to my order after it's been placed?

We do everything we can to fulfill orders quickly and unfortunately cannot make updates after an order has been placed. These changes include removing or adding products and/or changing the delivery address. If a mistake has been made with your order information, it's quickest to create a new order with the correct information and then let our Customer Service.
Do you offer e-gift cards for international customers?

E-gift cards are only available to customers shipping within the U.S.
How Do I Set Up A Subscription Order?

We will deliver products to you as soon as reasonably possible. Orders are usually dispatched between 1-3 days from the date of the order being placed. Please contact our customer service team if your delivery has not been received within the dates described.
How To Return My Items?

We do not currently offer free returns to overseas customers. You will therefore need to cover all costs of returning any items to us yourself. We advise that you mark your package 'returned goods' to avoid further duties. Remember: We strongly recommend that you return any items via a registered trackable service and obtain and retain proof of posting as we do not accept responsibility for items that fail to arrive.